> Technical Newsletter vol.3 : Reviews of medical exhibition in last 4 years
12,Nov,2019
Technical Newsletter vol.3 : Reviews of medical exhibition in last 4 years
Reviews of medical exhibition in last 4 years
     In 2014 we first exhibited in the world's largest medical exhibition "MEDICA/Compamed" in Germany. We introduced our new metal injection moulding or MIM technology component part every year we joined the exhibition. We developed our micro MIM (µ-MIM) technologies and also analysed our competitive advantages to serve current market's need and wants. We will introduce our latest technology in "MICRONORA" exhibition in September 2018.
2014 : Mass production of medical forceps parts by μ-MIM

Reliable medical forceps parts
     Micro MIM (μ-MIM) technology capable in mass producing free shape designed, high precise  component parts. We have started mass production of surgical disposable forceps which we integrated thin-walled and hollow-shape parts. This integrated design forceps leads higher reliability in terms of both parts quantity and quality.
2015 : Realise world's smallest  check valve

Thin wall structure impossible with additive manufacturing process
     Micro check valve with hollow shape and outer diameter of 2.25mm, has undercut structure with a ceramic ball inside. The cylinder wall thickness is less than 0.2 mm at the thinness point with smooth surface not requiring any polishing, which is impossible to realise by conventional metal injection moulding or MIM or additive manufacturing.
2016 : The world's first internal tooth helical gear mass production

Evaluation without using contacting probe
     Non-penetrating metal component part which cannot be successfully produced by CNC machining process such as helical gear (diagonal tooth gear) in module of 0.2 or less.  We introduced our advanced measurement equipment that can accurately analyse minute size and any special geometry gear produced by our metal injection moulding or MIM technology.
2017 : World's thinnest micro pipe
     We mass produce micro pipe parts by metal injection moulding with not only wall thickness of 0.2 mm throughout the part, but also complicated structures pipe that require development of dedicated tools if made by CNC machining. We also realise mass production of hollow parts with curved inner flow path,  Y splitting,  confluence, micro discharge port, and any other special hollow shape.
2018 : Mass production of components impossible by machining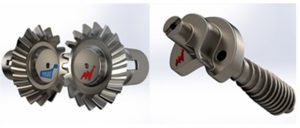 Show our technical strength of mass production of a hetero type gear with shaft, eccentric parts etc.
     Nowadays, demand of precise small special designed parts which are used for robots in medical and other industries is increasing. Please contact us for consulting of micro metal injection moulding (μ-MIM) production including the development lead time and processing abilities.
*Remark : This newsletter was originally published on July 17, 2018