"We adopt to the ever-changing manufacturing world.
We embrace these changes and look forward to the future.
We leverage μ-MIM® technology to meet customer needs which conventional manufacturing technology would be unable to satisfy"
---
…I established Micro MIM Japan Holdings Inc. as a leading manufacturer to realise the use of μ-MIM® technology to keep pace with rapid changes in the manufacturing world. We are proud that the value of μ-MIM® technology meets the future trend of miniaturization.
     However, ongoing research and development remains crucial to determine our future technology and provide state-of-the-art technology to meet market needs, unhindered by a sole technology.
     Which is why we engage in consulting, research and development, support in technical cooperation and technology transfer utilizing μ-MIM® technology and know-how transfer in general MIM manufacturing. With Taisei Kogyo Co., Ltd. as a group company, we offer new and inimitable manufacturing expertise…
October 2017
Dr.Shigeo TANAKA
Company logo
     Our company logo uses red, just like the Japanese national flag. Taisei Kogyo Co., Ltd. was established as a plastic injection moulding manufacturer in the 1970s and we have adapted metal injection moulding (MIM) technology based on our plastic moulding experience. MIM technology was originally developed in the United States, since which time Taisei Kogyo has developed new-generation MIM, μ-MIM® technology, in Japan. We respect the invention and are grateful for the existing MIM technology. From now on, however, we would like to transmit our μ-MIM® technology as a Japanese company.
     This logo has a shape intertwined with an image letting you grab the future with your own hands. This hand also seeks a new form by repeating trials, with which we will positively explore the potential for new manufacturing enterprise in the market.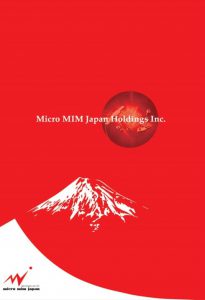 Contact
■

Head Office and Plant

26-1 Ikeda-kitamachi, Neyagawa, Osaka 572-0073, Japan




Tel.: +81-72-829-3588 Fax: +81-72-827-3390
■

Tokyo Sales Office

Gloria Hatsuho Machida 905, 3-18-27 Kamitsuruma-honcho, Minami Ward, Sagamihara City, Kanagawa Prefecture 252-0318, Japan




Tel.: +81-42-851-5092 / Fax: +81-42-851-5093
■

Offenburg Office

In der Spöck 12 (Im TPO) 77656 Offenburg Germany




Tel.: +49-781-6301-4281 / +49-162-696-7837 (Mobile)
■

Micro MIM Europe GmbH

Graf-Adolf-Straße 41, 40210 Düsseldorf, Germany




Tel.: +49-211-1583-3055
■

Thailand Plant

19/65 Moo.10, Klong Nueng, Khlong Luang, Pathumthani, 12120 Thailand




TEL +66-2-520-3191-2 / FAX +66-2-520-3193
■

Research – Lab(Thai)

141 Thailand Science Park, Room No. INC2D-409, 4th Floor, Phahonyothin Road, Klong 1, Khlong Luang, Pathumthani 12120 Thailand