> MIM Design Tips #03 : Manufacturing / Corner
24,Apr,2019
Design Tips
MIM Design Tips #03 : Manufacturing / Corner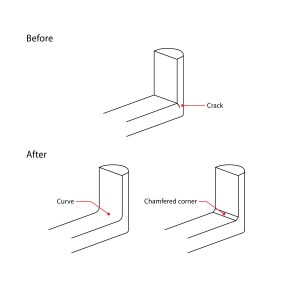 Before: Compared with plastic injection moulding, the material or feedstock of MIM is brittle.
             Therefore, it is more likely to occurred crack in demoulding process especially at the sharp
             edge corner. This sharp edge corner is not only causing the crack but also inhomogeneous
             metal powder distribution and this leads poor mechanical property.
After:  Apply curve or chamfered corner to avoid demoulding or inhomogeneous problems.